THE NOKIA 7650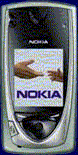 I've finally thrown my money at a top notch piece of technology in the shape of the Nokia 7650. It is a "2.5"g phone - polyphonic ringtones, a real time colour display and a built in digital camera.

Of course, once you've taken your pictures, you can set up your own website and la-di-dah-di-dah......oh! here we are!!!!! Ha ha!

The mobile phone market is very competetive (in the uk!!!!, sorry americanos!!) so I'm not going to preach on where you can get the best deal on your Nokia 7650 from. All that I can say is SHOP AROUND and DONT TRUST ANY SALESPERSON even if she is cute, blonde and smiles a lot.



I suppose those in best stead to talk about the Nokia 7650 are Nokia themselves so please visit Nokias offical 7650 webpage for more details on this fantastic toy.